Daniel Drolet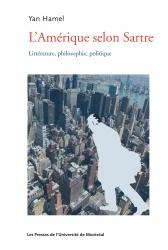 Jean-Paul Sartre, an influential French writer, philosopher and politically active intellectual in the mid-20th century, was fascinated by the United States.
A new book by Yan Hamel, a professor of literature at TÉLUQ, Quebec's distance-learning university, analyzes that fascination and the effect it had on French opinion and political discourse, particularly on the left.
"Sartre set the agenda for discourse about the U.S. among left-wing French intellectuals after the Second World War," says Hamel, adding that this was one of the reasons he decided to research the topic.
Hamel's book, L'Amérique selon Sartre : littérature, philosophie,...